Ponedjeljak, 23.05.2016 u 11:05
Pliva, Industrius i Nanobit – best large, medium sized and small exporters in the 2015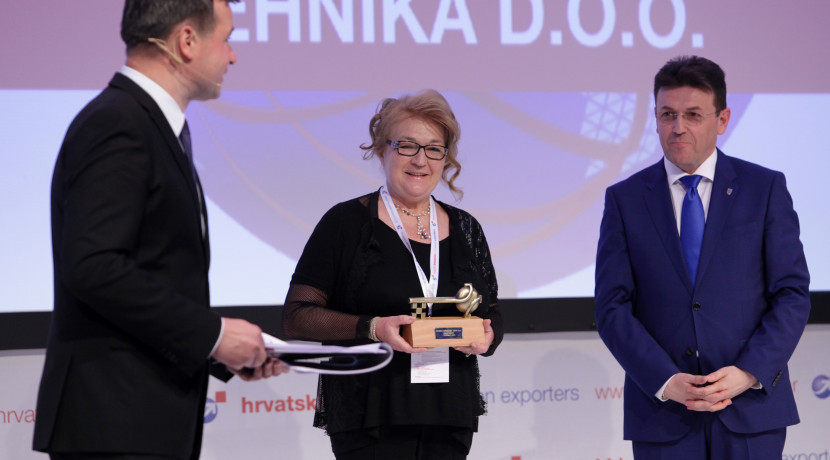 Habiba Legac, Luka Burilović
President of Croatian Chamber of Economy handed the "Zlatni ključ" ("Golden Key") award to the best exporter for the area of Hungary, to the company Feroimpex automobilska tehnika Ltd. (Feroimpex Automobile Techincs) from Bregana, on the 11th Convention of Croatian Exporters (abbreviated – HIZ).
On this occasion, Croatian premier Tihomir Orešković affirmed that the main goal of the Government of Croatia is to accelerate the economy growth beyond 2.5 %. "Right now, Croatia is in on its beginning of the faster economy growth. There are many indicators that the first quarter of the year is positive. Industry production is growing and so are investments and employment. We believe we are capable of maintaining that trend and even of accelerating it till the end of this year", he said.
The tradition of HIZ's award "Zlatni ključ" is nine years long and the prize is being handed to exporters to the most important countries, new markets and to the fast growing foreign markets. This year, Adria Winch from Split was awarded with the last one listed, as the exporter to the Russian Federation, and Omco Croatia from Hum na Sutli was awarded for the North, Central and South American market.
The most prominent exporter to the African Countries or, in this case, Egypt, was MIV – Metalska industriju Varaždin (Metal Industry of Varaždin), and for the Asia, Pacific and Turkey the prize went to the company Same Deutz-Fahr Žetelice from Županja.
In the previous year, the best exporter for the area of Netherland was ACG Lukaps from Ludbreg, for the area of the USA HS Produkt from Karlovac and for the France AD Plastik. "Zlatni ključ" for the best exporter for the area of Serbia went to Saponia, for the Austria Ivančica, for the Bosnia and Herzegovina Podravka, while the best exporter for Germany in the 2015 was Vivera. LTH Metalni lijev (Metal Casting) from Benkovac was awarded for the Slovenian area and Rockwoll Adriatic for the export to the most important foreign trade partner, in the case of Croatia, Italy.
According to HIZ's criteria, the most innovative exporter in 2015 was AD Plastik, best small exporter was Nanobit, best medium sized exporter was Industrius and best large exporter was Pliva Croatia.