Četvrtak, 21.04.2016 u 10:04
Mr. Burilović: Tourism should depend on domestic products, not on the weather forecast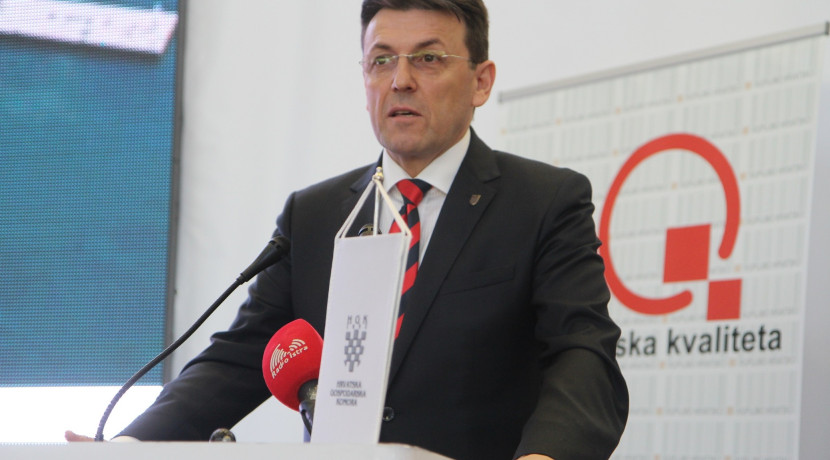 Luka Burilović, predsjednik HGK
"Tourism-sourced revenues have reached the level of about 8 billion euros. Should the share of Croatian products in that total number be only 5% higher, our economy would be richer for 400 million euros. This goal is realistic and we must aim for it.", said Mr. Luka Burilović, President of the Croatian Chamber of Economy, as he was opening the 2nd "Croatian product for Croatian tourism" Fair in Poreč.
Mr. Burilović invited the small producers to partner up and cooperate. He also suggested to the key tourism industry players to increase their contribution to the country economy by including a larger number of domestic products and services in their tourist offer and thus enriching it with the tradition and quality from all regions of Croatia.
He has also added that it is unfavourable for our economy that tourism, as our economy's most important sector (if we look at the ratio of its participation in the GDP), still relies heavily on the sun and sea. "It is bad for Croatia that economic status of our country actually depends on the weather forecast. If the season is rainy, we can almost with certainty expect a negative economic growth. This has to change! ", says Mr. Burilović, also stressing that we must connect the green Croatia with the blue one and that the "Croatian Product for Croatian Tourism" initiative represents one of the models to make this 20-year old platitude become a reality.
Mr. Anton Kliman, Minister of Tourism, said that connecting the green and blue Croatia should be a strategic commitment, because we produce high-quality products and Croatian tourism should be used as a way to place them on the European table.
Mr. Darko Horvat, Minister of Business and Trade, also believes that it is necessary to realize a synergy between Croatian producers, suppliers, hotel managements and other tourism industry employees, because it is a prerequisite for business success.
More than a hundred of the most eminent Croatian producers and tourism industry leaders were welcomed in the Žatika Hall of Poreč by Mr. Edi Štifanić, Mayor of the City of Poreč, Ms. Viviana Benussi, Istria County Vice-Prefect and Mr. Mladen Pavić, Advisor to the President of the Republic of Croatia for EU funds, agriculture, forestry and fishing.
In the course of this initiative, a business contract for the delivery of fruits and vegetables between the Maistra hotel chain and Velpro and Agrofructus Group companies was signed. A tripartite cooperation agreement was signed by the Croatian Chamber of Economy, the Ministry of Entrepreneurship and Crafts and the Faculty of Economics in Rijeka.
At the fair, the domestic producers have presented their products and services through several subject areas defined in line with the needs of hotels, caterers and other providers of accommodation and various tourism-related services. It should be noted that the Fair was held under the auspices of the long-standing national action "Let's Buy Croatian", via a specialized project "Croatian Product for Croatian Tourism" from 21st to 22nd April 2016. Sponsors of this year's campaign are the Croatian Postal Bank, Croatian Bank for Reconstruction and Development, Wüstenrot building society and Aquaviva.