Četvrtak, 19.05.2016 u 10:05
Croatian businessmen in Iran: This is the opportunity that needs to be used!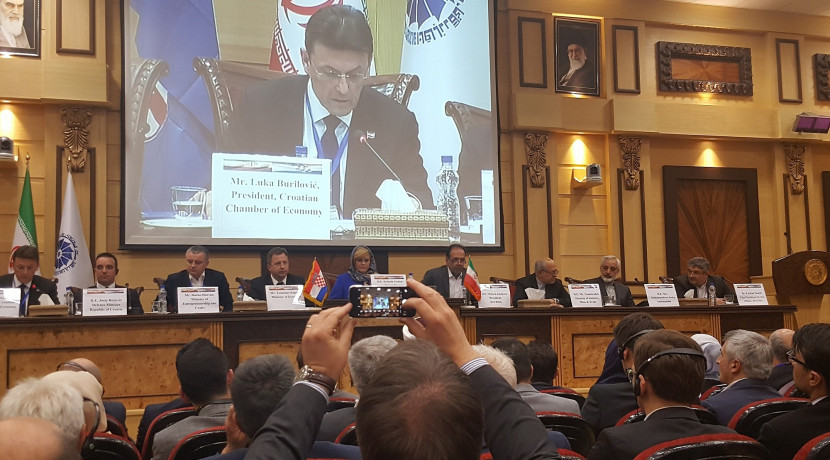 Luka Burilović
"Iran is giving Croatian companies an opportunity and it is our duty to use it. After the sanctions, this market is yearning for all kinds of goods and services, and it is especially important to understand that it is offering cooperation even to small markets", said Luka Burilović, president of Croatian Chamber of Economy, while opening Iranian-Croatian Economic Forum in Tehran, in which 70 Croatian companies participated along with 150 Iranian companies.
Considering large infrastructure projects which are planned in Iran, Burilović emphasizes that it is not unrealistic to expect Croatian participation of 1% in total Iranian import. In that case, our economy would gain the total of 657 million dollars. Croatian president Kolinda Grabar-Kitarović said that good cooperation can have a huge positive effect on both economies which is not important only for the Erupean market, but also for the market of the entire Middle East.
"There are many areas of cooperation and here we are considering the importance of cooperation between small and medium sized entrepreneurship, in order to strengthen our economies. Relationship between Croatia and Iran reaches deeper than just to economy level, thus our goals are to cooperate on the level of education, tourism and culture", says the president of Iran Chamber of Commerce, Industries, Mines and Agriculture Mohsen Jalalpour.
The reactions of the businessmen are very positive. "We find this opportunity very empowering. There is an interest in the development of tram infrastructure and for the purchase of Croatian low-floor trams", says Mirko Poljak from Končar.
INA has also been present on Iranian market for very long time period, and Niko Dalić says their experiences were good so far. "Business contract has changed, though", he says, "but we certainly hope it will mean only good for all of the investors. Also, we hope it would be possible to implement a more convenient contract, if it becomes necessary."
President Burilović also spoke about the aspect of tourism: of the total number of 10 million Iranian tourist, about 2 million decide to visit Europe. Their share in statistics of foreign guests in the Republic of Croatia is so insignificant that we never even note it. "Our potential is, nevertheless, good enough to satisfy Iranian criteria. Along with all the natural attractions that Croatia can offer, we also gained halal certificate and it is known that halal-tourists are far better consumers. Thus, we should try even more to promote ourselves on Iranian market", says Burilović.
This forum was a part of Croatian president's official visit to Tehran, in the period of May 16 th to 19th. Croatian minister of economy Tomislav Panenić, minister of defence Josip Buljević and minister of entrepreneurship Darko Horvat gave their support to this event too.
The total trade value of the Republic of Croatia with Iran in 2015 was 4,423,000 USD, or 0.01%. Iran is one of the few countries with which Croatia has a trade surplus, which means that our export is almost seven times bigger than the import. Nevertheless, total trade value is still very small and opportunities are still insufficiently used, considering the fact that this market has about 80 million inhabitants.