Ponedjeljak, 30.05.2016 u 11:05
Croatian Chamber of Economy – Representation in Shanghai Will Give an Opportunity to Enlarge Our Export to China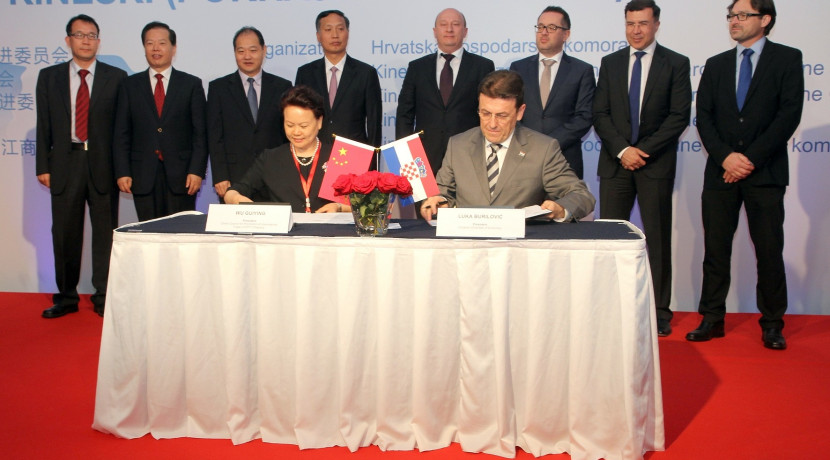 Wu Guiying, Luka Burilović
"Since China is the most populated country, it is not surprising that its economy is the second largest and its trading power is the largest in the world. The numbers Croatia has to offer are not even comparable, but I nevertheless believe there are many unused areas of cooperation, especially in the area of food industry, natural cosmetics, tourism and in the exchange of know-how. This is the very reason why CCE is establishing its Representation in Shangai", announced the president of Croatian Chamber of Economy Luka Burilović as he opened Croatian-Chinese Economy Forum, where the participants were made of 50 Chinese and 150 Croatian companies.
"There were no Chinese investments in Croatia so far, but the development of cooperation could most probably be implemented in the area of transport and distribution of the goods. Also, our harbours, such as Ploče, Zadar and Rijeka, make an ideal point of entrance of Chinese goods to the Europe", says Burilović.
The vice president of China Council for the Promotion of International Trade (CCPIT) Wang Jinzhen emphasizes the fact that the cooperation between our countries is growing and he also added that Croatia's chances for the success are especially high in the field of tourism. "Chinese citizens are traveling more than ever. In couple of years, the number of Chinese tourists will grow up to 100 million and there lies the opportunity for your country. Croatian cost is marvellous and you should work more in trying to present it to Chinese citizens", said Jinzhen.
Deputy Minister of economy Leo Prelec sees the opportunity to cooperate with China in the area of energetics. "When it comes about political issues for the EU, number one is the question of energetics security. Croatia is working on a couple of projects for the diversification of the system of energetics in the EU, such as Liquefied Natural Gas terminal (LNG) on the island of Krk or the Ionian Adriatic Pipeline (IAC)", said Prelec.
The vice president of the Standing Committee of National People's Congress for the Zhejiang province Yuan Rongxiang emphasizes Croatia's outstanding geostrategic position, and he sees our developed infrastructure as an additional advantage in Croatia as potential Chinese business partner.
President Burilović and the president of CCIPT in the province of Zhejiang Wu Guiying signed the agreement on cooperation between the CCPIT Zhejiang and the CCE.
This forum was organized by the Croatian Chamber of Economy, CCPIT and CCPIT Zhejiang.