Četvrtak, 16.06.2016 u 09:06
Croatian Chamber of Economy, Croatian Chamber of Trades and Crafts and Association of Croatian Road Carriers Signed the Agreement on Cooperation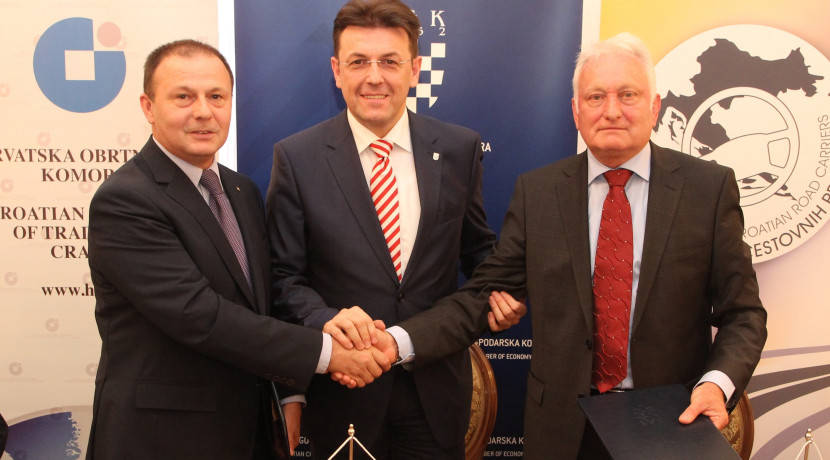 Predsjednik HOK-a Dragutin Ranogajec, predsjednik HGK Luka Burilović i predsjednik UHCP-a Dragutin Kranjčec (s lijeva na desno)
"With this agreement, we aim to find the common interests of all the contractors, in the field of road freight transport. Also, we want to help strengthening those interests and harmonize our actions towards the decision makers in order to affect the legislations. This is important when communicating with the authorities and other institutions, when organizing public educations in order to stimulate the sector's development and when aiming to develop the projects of the common interest", said Luka Burilović, president of the CCE, on the occasion of signing the agreement on June 16th at the Croatian Chamber of Economy. The agreement was signed by Burilović, Dragutin Ranogajec (president of the Croatian Chamber of Trades and Crafts) and Dragutin Kranjčec (president of the Association of Croatian Road Carriers).
"I am very pleased with our cooperation so far, but every job can always be improved. Thus, we can work on even better cooperation, on a higher level. We must do everything to create quality country and functional system, regardless of the current issues on a country level", noted Burilović.
"Croatian Chamber of Trades and Crafts (HOK) supports this form of cooperation. HOK was already head of coordination in this field, which stopped being active for political reasons. It is important that the suggestions arrive from the base and that the profession suggests possible solutions. The agreement gives the opportunity to agree on the opinions about the solutions of identical problems which road carriers meet. It is necessary to present the common solutions to the Government, thus making it possible to change the legal acts which create too many barriers for the simple and quality work", said the president Ranogajec.
"Our branch is loaded with too high levies. The Association was making attempts to find the solutions, only to make the same conclusion all over again: our joint appearance has to protect carriers' interests and increase their chances for the survival on the market", said the president Kranjčec, adding that there certainly is a wish to reduce the expenses. "Our objective is to accomplish carriers' satisfaction with the work and to stop giving them reasons to seek jobs in other parts of the Europe. Carriers need to make the profit in Croatia", Kranjčec explained.
The agreement covers the implementation of partial return of the excise duty, reduced public broadcasting tax, reduced expenses of the vehicle registration and inspection, thus increasing the competitiveness, getting the approval for the larger foreign drivers' quota and stimulating the employment or retraining of the domestic drivers.
This type of the transport makes more than 70% of the total transport in the Republic of Croatia and on our roads are used by about 150,000 of commercial vehicles. This branch has brought about 6.5 billion Kuna to the state budget during the 2014. The road transport has long been the main form of transport of both travellers and cargo in the Republic of Croatia.