Petak, 03.03.2017 u 00:03
Common Initiatives of the Chambers of the Western Balkans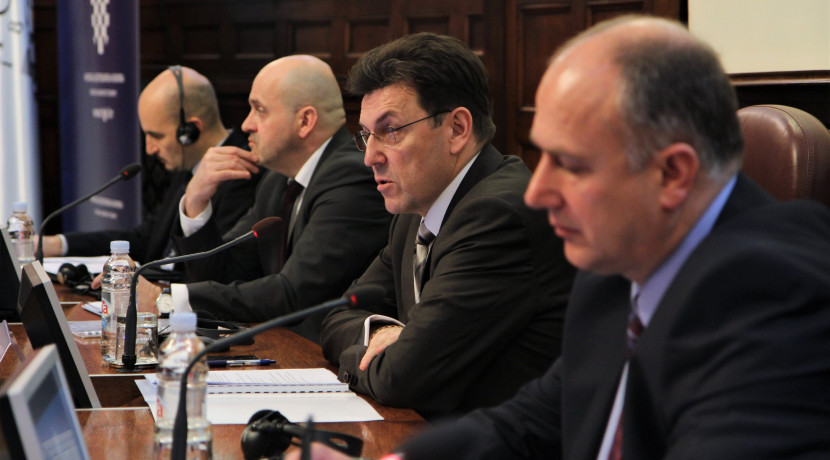 Daniele Borrelli, Želimir Kramarić, Luka Burilović, Bruno Bojić
"This is the fourth Steering Committee Meeting of the Chambers of the Western Balkans Investment Forum (KIF). Our objective is to turn this part of Southeast Europe into a desirable investment destination", said the president of the CCE Luka Burilović, as this meeting's host, at the CCE on March 3rd. Other participants were presidents of this region's chambers of economy – Albania, Bosnia and Herzegovina, Montenegro, Macedonia, Kosovo, Serbia and Slovenia, with their associates.
"All our chambers should play a major part in dual education system, in promotion of entrepreneurial learning through SEECEL and in supporting small and medium entrepreneurs as well as start-ups", said Želimir Kramarić, vice president for international affair and EU. He also presented the new suggestion for the construction of the learning-through-work platform and the Strategy of Development of the CCE 2017-2020.
Vice president of the Foreign Trade Chamber of Bosnia and Herzegovina Bruno Bojić presented KIF's activities and initiatives during the previous year. He spoke about the question of liberalization of the visa regime between Bosnia and Herzegovina and Kosovo and about his cooperation with the president of Kosovo Chamber of Commerce Safet Gerxhaliu; the two of them will prepare official letter for both governments in order to find the solution to this issue.
Counsellor of the Italian Embassy Mr. Daniele Borrelli talked about the priority areas of the summit of the Berlin Process under Italian chairmanship that will take place in Trieste on the 12th July. He also mentioned the intention to organize a Business Forum on the margins of the summit focusing on small and medium-sized enterprises. President of the Chamber of Commerce and Industry of Serbia Marko Čadež presented two project initiatives of the products and services, which shall be developed as the part of KIF. These initiatives are joint recommendations for the improvement of business and investment climate in the Western Balkans and the construction of the Complementarity and Competitiveness Study for the Economy of Western Balkans. Both initiatives were highly supported by the participants.
President of the Economic Chamber of Macedonia Branko Azeski emphasized the need for the quality KIF's projects and initiatives implementation and the president of the Chamber of Economy of Montenegro Velimir Miljušković announced a more intensive KIF's work in this year.